If you will allow me to get serious for a minute. I have been contemplating why this team can never get "over the hump". Why can't we draw inspiration when we need it the most? Why can't we dig deep and find that extra hutzpah to seal the deal?
That answer is spirit. Our teams are demoralized .. our teams lack the inner resolve, the confidence to press forward and win the ring.
Who's to blame for this absence of spirit and determination?
The Mascot.
That's right. Why do we still have this .. this thing hanging around the Jake? Have you ever went to the park and said, "Boy .. I can't wait to see what antics that Slider is up to next!". He doesn't even do anything cool like slide into a vat of beer.
For all the years I have been a baseball fan .. he has been the ONE constant. Players have come and gone .. bone-headed managers .. even GM's and owners have changed. But Slider has remained.
It's time to castoff this poor man's Phanatic with a Charlie Manual gut. It's time for a new era. A mascot that will inspire our teams to dig deep and find that reservoir of confidence that we lack.
I introduce to you ..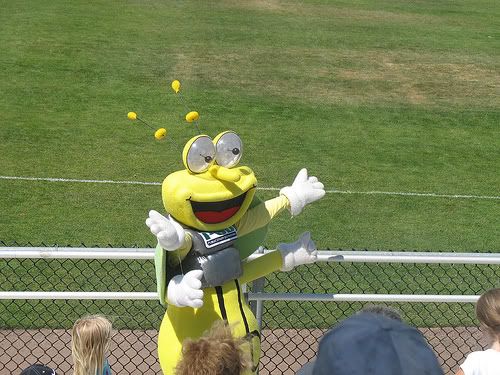 Marty the Midge - Yankee Killer
NEVER FORGET